The Karnataka government has established the Bhoomi land records platform, which helps state residents check their land records quickly and easily online.
You can also get other state land records like Meebhoomi AP and Bhulekh Mahabhumi Online.
Portal
Bhoomi Online RTC
for
RTC (Pahani), MR and
Other Land Records Karnataka
Launched by
Government of Karnataka
Managed by
Bhoomi Monitoring Cell (BMC)
Revenue Department
Land Services Available on Bhoomi Online RTC
RTC Services >

View RTC and MR (Pahani)
View Khata Extract
View RTC Information
I – RTC
I – RTC Wallet

Report Services >

Dispute Cases
Village Wise Pendency
Bhoomi Dashboard
Bhoomi RTC Mutation History
Bhoomi DI Dashboard

Land Conversion Services >

Apply Online for Land Conversion
View Conversion Request Status
Download Final Conversion Orders

Survey (SSLR) Services >

Viewing of Survey Documents
Request for Survey Documents
Revenue Maps

Other Services >

Bhoomi
Crop Loan Waiver System
Mojini
Parihara
Name Matcha Algorithm
Dishaank
Pahani Online | I – RTC
Citizen Portal
Binary File to Convert ISFOC to UNICODE

Mojini V3
Mojini V3 Application Status
Mojini Pendency Report
Bhoomi RTC Online Contact Details
Other Land Services
Visit Bhoomi Karnataka RTC Official Portal
Before starting, visit Karnataka's land record homepage. Visitors can access RTC (Pahani) & MR, Khata Extract, Mutation, Land Conversion, Revenue Maps, Mojini, Survey Documents Land Details, and other land documents online by using the Bhoomi Reports Karnataka platform.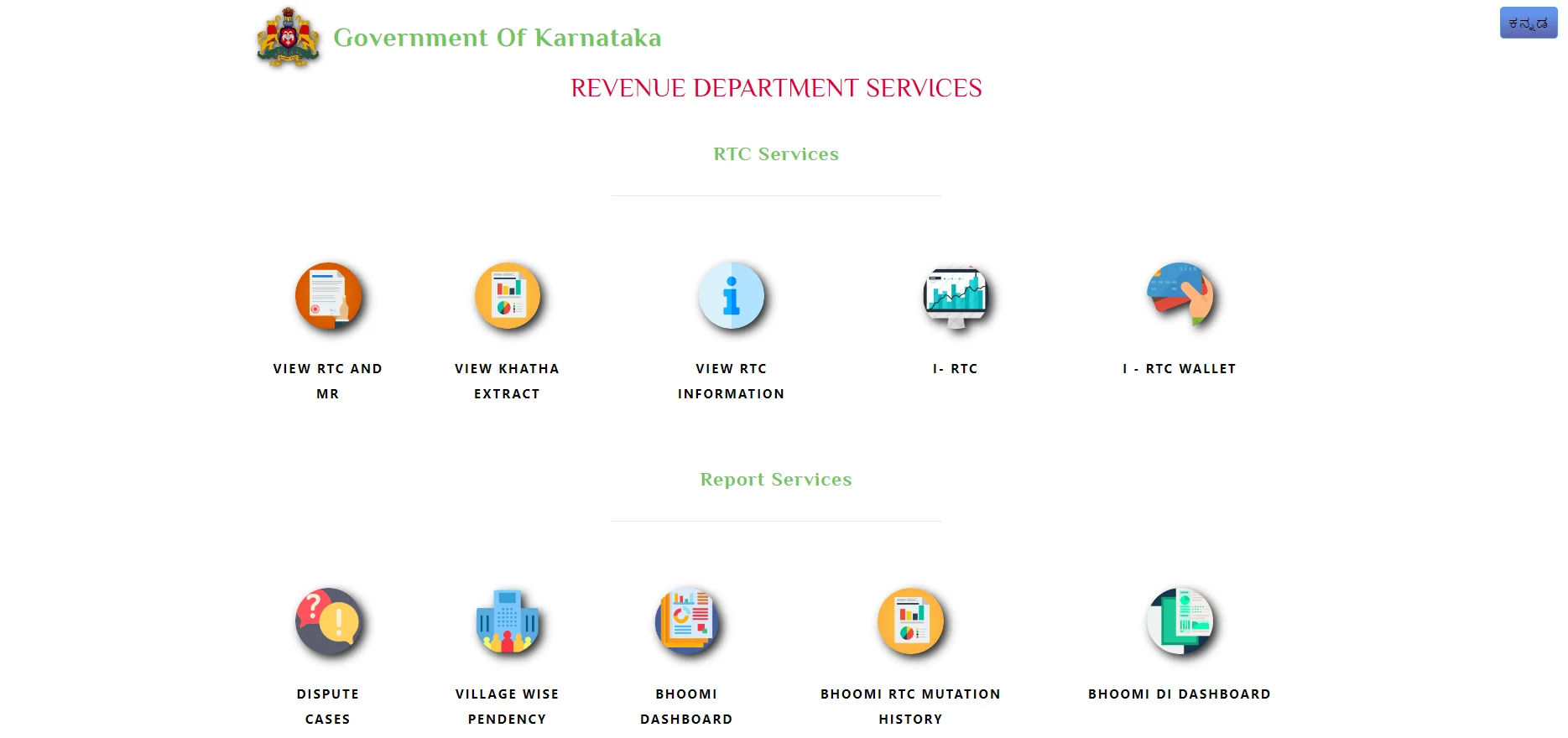 View RTC (Pahani) Current Year/Old Year
Go to Bhoomi Portal Homepage > View RTC and MR
Page – landrecords.karnataka.gov.in/Service2/
Step 1 – Select Record RTC (Pahani) –
Just go to the above View RTC page, and you can search RTC Bhoomi by choosing Current Year OR Old Year. You can also search other land records by clicking on it.
Now Select your District, Taluk, Hobli, Village, and Survey Number then click on the Go button. After that Select your Surnoc, Hissa No, Period, and Year, then click on the Fetch Details button.

Step 2 – Verify Your Details –
Owner Details and Land Details will be shown on your screen. You have to Verify that it's your details. After confirming click on the View button.

Step 3 – View RTC (Pahani) –
As a result, Your RTC (Bhoomi Pahani) Details will be displayed on the screen. You will get Land Details, Owner Details, and Other Details in this document.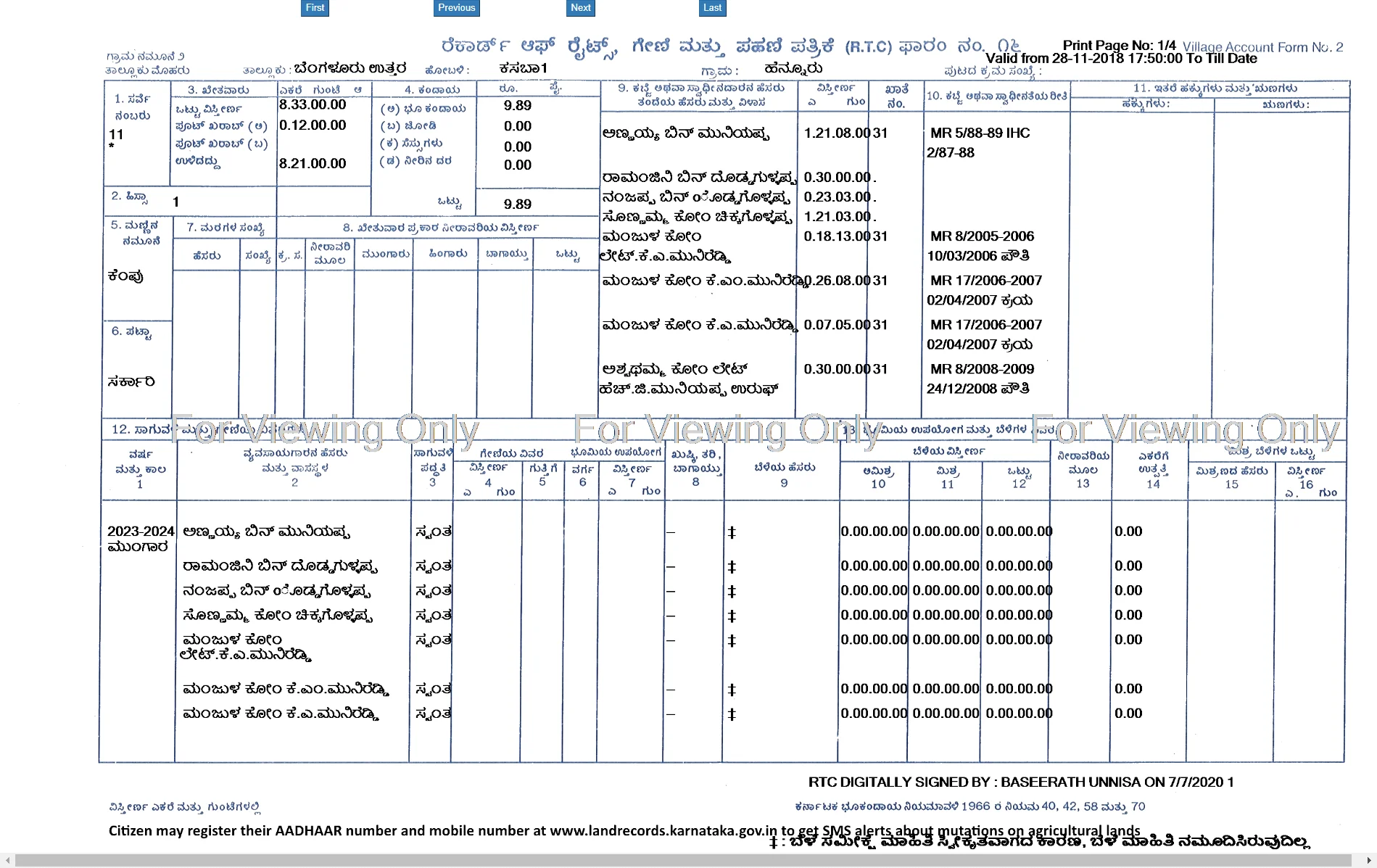 ---
Bhoomi Karnataka Contact Details – Helpline Number
Bhoomi Monitoring Cell
SSLR Building, K.R. Circle
Bangalore – 560001
Email –
[email protected]
Tel – 080-22113255
---